The training challenge.
Endurance sports are a test of both physical stamina and mental fortitude, and every athlete, whether a novice or a seasoned competitor, faces unique challenges. From the overwhelming uncertainty of where to start, the struggle to maintain consistent training amidst a busy schedule, to the plateauing performance despite relentless effort, the journey can often feel daunting.
Train smarter, not harder.
Hi, I'm Matt, and with my personalised attention and tailored training plans, you'll experience targeted guidance and support throughout your journey. I'll help you optimise your training, improve your technique, and develop a strategic race plan.
Whether you're a beginner or a seasoned athlete, my one-on-one coaching ensures that every aspect of your endurance training is fine-tuned to your specific needs and goals.
Gain a competitive edge, boost your confidence, and unleash your full potential with the comprehensive and focused approach of 1-2-1 Endurance Event coaching.
24/7 motivation and accountability at your fingertips.
With my expert guidance and personalised support, combined with the powerful Training Peaks App, you'll have the ultimate toolkit to propel yourself to new heights.
Experience the winning combination of tailored training, performance tracking, and real-time feedback, all at your fingertips.
Let's go beyond limits and unlock your greatness together. Your journey to success starts here.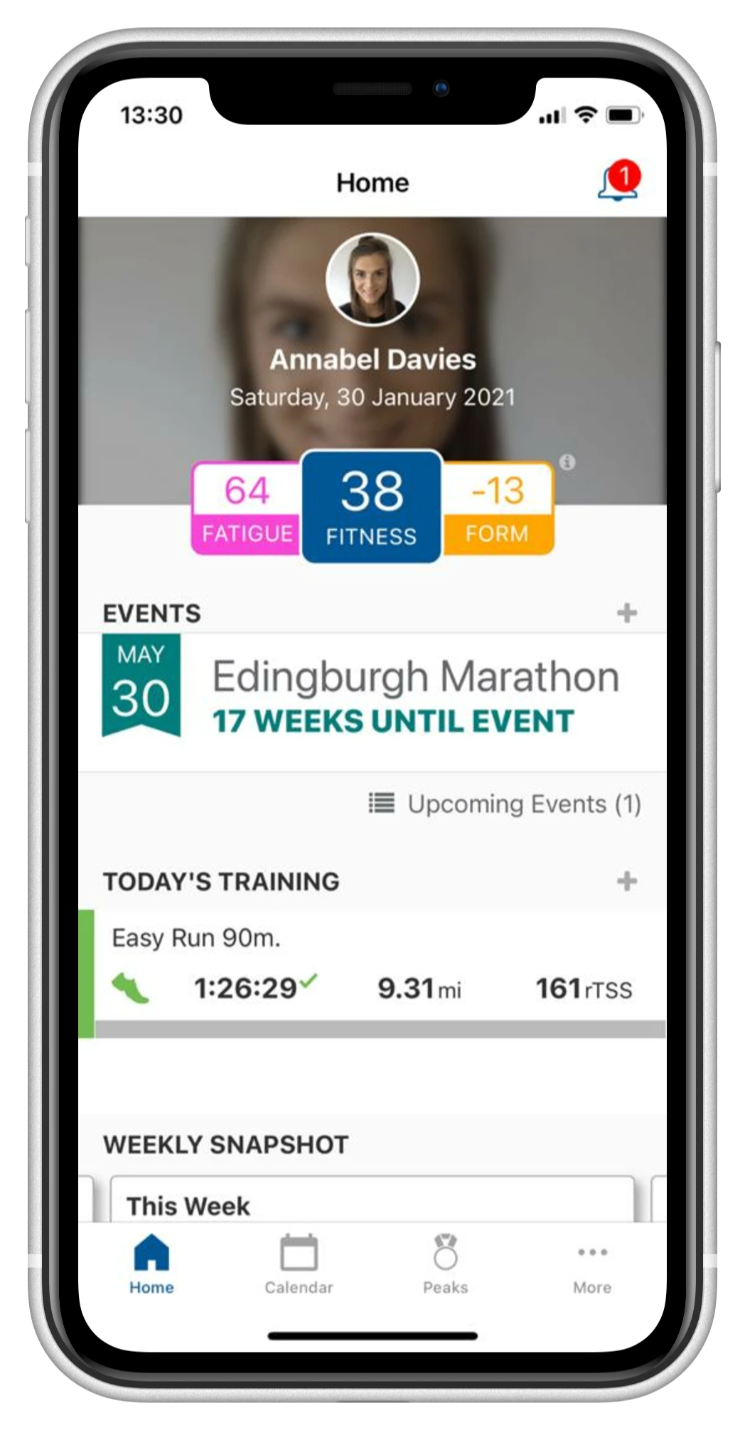 1-2-1 Online Coaching Plan 
(Minimum 3 months)
Initial 60 minute 1:1 consultation with weekly 30 minute online progress check-ins
Structured 'Astute' monthly training plan which adapts and evolves weekly as you progress
Full race planning and selection together
Bespoke Race day nutrition plan
Full 'Astute' monthly dietary tips, advice and access to cutting edge nutrition advice from our partners
Direct Coach email and phone support for questions
Bespoke strength and conditioning plan
Ongoing testing to benchmark progress throughout the plan
LIMITED TIME OFFER:


50% OFF until October!
---

1-2-1 Coaching Plan: Normally $199 a month
NOW
ONLY $99 a month
🚨 HURRY - this is strictly a time limited offer.
BUY NOW
Matt Davies, a Certified IRONMAN Coach and Personal Trainer with over a decade of experience helping people achieve their fitness goals.
I'm passionate about extreme sports, having completed multiple Marathons, Ultra-Marathons, and IRONMAN competitions in Europe and Australia.
I believe in a holistic approach to fitness, considering physical training, nutrition, and mental preparation.
I'm dedicated to helping my clients train smarter, not harder, and achieve their absolute personal best.
I've been there and got the (many) T-shirts, so with my expertise and guidance, you can trust that you'll be in safe hands throughout your journey to becoming the best athlete you can be.
Who's my 1-2-1 Coaching for?
With expert guidance, tailored plans, and flexibility to accommodate your busy lifestyle, I'm here to help you achieve your endurance goals.
Beginners: If you're new to endurance events and need guidance to build a strong foundation, 1-2-1 personal training is perfect. Gain the knowledge and skills necessary to start your endurance journey confidently.
Intermediate Athletes: If you've completed endurance events before and want to improve your performance, a 1-2-1 personal trainer can help you take it to the next level. Receive personalized training plans and expert advice tailored to your specific goals.
Seasoned Competitors: Even experienced endurance athletes can benefit from 1-2-1 personal training. Fine-tune your training, address weaknesses, and optimize your performance with the help of a dedicated coach who understands the demands of your sport.
Busy Professionals: If you have a demanding schedule and struggle to find time for training, 1-2-1 personal training offers flexibility and customized workouts that fit your lifestyle. Maximize your training efficiency and achieve your endurance goals while managing other commitments.
Buy Now
Frequently Asked Questions
Q: What is 1-2-1 endurance event coaching?
A: 1-2-1 endurance event coaching is a personalised training program for individuals preparing for endurance events such as marathons, triathlons, or IRONMAN competitions. It provides one-on-one guidance, customised training plans, and expert support to help you achieve your performance goals.
Q: How can 1-2-1 coaching benefit me?
A: 1-2-1 coaching offers several benefits, including personalised attention, tailored training plans, accountability, and expert guidance. It allows you to optimise your training, address specific weaknesses, prevent injuries, and enhance overall performance, leading to better results in your endurance event.
Q: Is 1-2-1 coaching suitable for beginners?
A: Absolutely! 1-2-1 coaching is suitable for individuals of all fitness levels, including beginners. Matt will assess your current capabilities and design a training program that gradually builds your endurance and skills, ensuring a safe and effective progression towards your goals.
Q: How often will I have contact with my coach?
A: Typically, you can expect regular communication through the Training Peaks app and via WhatsApp. This allows Matt to track your progress, provide feedback, and make adjustments to your training plan as needed.
Q: Can the coaching be tailored to my specific event and goals?
A: Absolutely! 1-2-1 coaching is highly personalised and can be tailored to your specific endurance event and goals. Whether you're training for a marathon, triathlon, or any other endurance challenge, Matt will work closely with you to develop a training plan that aligns with your event, timeline, and desired outcomes.
Q: How long does the coaching program last?
A: The minimum committment is for 3 months, but you can continue for as long as you like. Matt will assess your progress and structure the coaching as you go.
Q: How do I get started with 1-2-1 endurance event coaching?
A: Getting started is easy! Simply click the Buy Now button, and once you've been through the checkout process, Matt will guide you through the process, assess your needs, and create a customised coaching plan tailored to your goals and schedule.
Buy Now